I think we should put our hands together and give a round of applause for Facebook. They are going to have an IPO in the future. 2012 to be exact. My response "I'm totally going to invest in THAT." I know Facebook has been getting a bad rap in the news lately and rightly so. However, despite all that, no one on my friends list has deleted their FB. Kind of goes inline with, if you can't see it, it must not exist. Look at it in terms of "oh, Aunt Vilma got her jewelry stolen!" "Oh, that is just terrible." blah blah blah, the end. (unless you were going to inherit something from Aunt Vilma, then maybe a different story). Then look at it like: "Our house was broken in to!" "Go out and change all the locks, get a new security system, etc…."
We all know who Snookie is, right? I didn't until this morning but I do know about the 10% tax for tanning salons. How lame is that? I've never gone to one, I usually get a sufficient amount of tanning done in the summer from God's yellow sun. You know how they say the sun causes skin cancer? Well, I've heard it two ways. Some people also say it's the sunscreen. Have you ever looked at the ingredient list on one of those bottles? ICK. There is the "good" kind of sunscreen that only has a few ingredients but one looks extremely pale after the application. I never used to use sunscreen until I came to CA. Now if I spend a day at the beach I use it. I really hate sunburns.
I was talking with a friend the other day and I mentioned that "I hate weddings." It wasn't a total off the wall random comment because there was a wedding going on in the vicinity. I do hate weddings though. The last wedding I participated in, I really put in my dues. I helped in the kitchen and with clean up afterwards. You only do that when it's a reallllly good friend getting married. At the end of the event I was on my hands and knees cleaning a floor. One of the bridesmaids walks by and is like "Oh, everyone's working so hard! Hehe!" Oh yes, so funny. Mind you, the only thing she did was walk the isle and complain about not getting forks and enough food. But that's not why I hate weddings. They usually are all the same with a tiny bit of variation (I guess that's called tradition) and they can cost a fortune. The fortune I'm talking about does not compare to the 3 million Miss. Clinton is having spent on her wedding but it is still substantial. Therefore, I have decided, I shall not have a wedding. I shall have a huge reception party. Half the stress and twice the fun.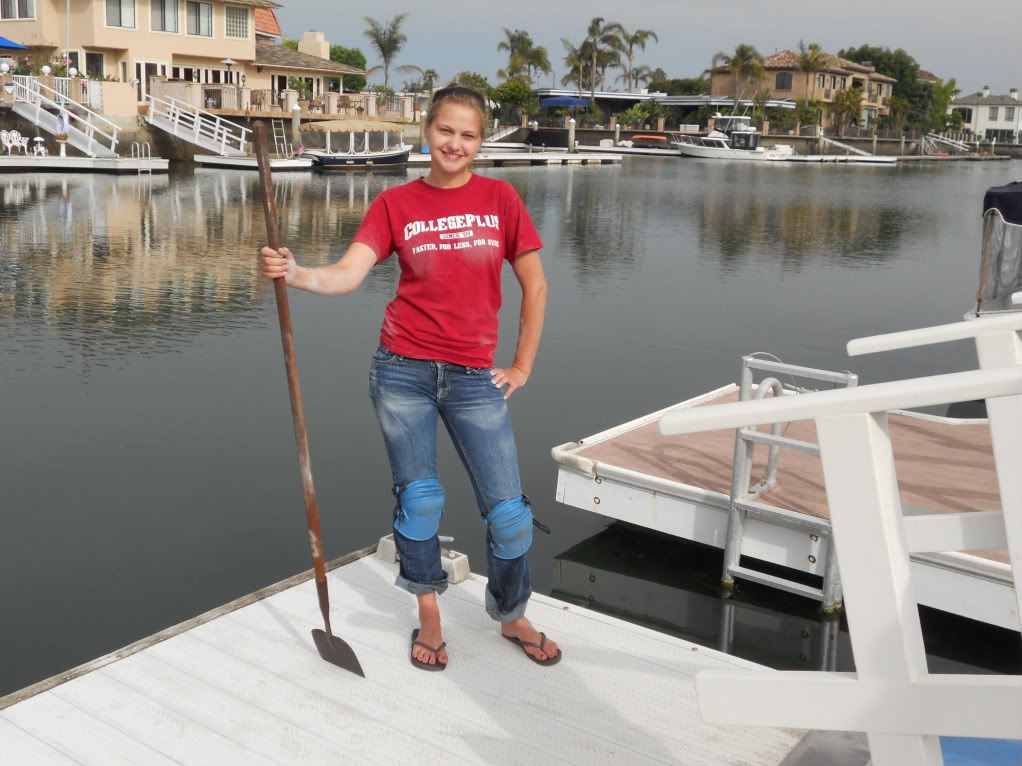 I'm including a picture of myself in this blog post, I generally do not do that. Yesterday I spent 1.5 hours scraping the sides of a dock. I have never been more sore in a million different place. I almost fell out of bed this morning. I just didn't want anyone to think I was all play and no work.
And that's Emily reporting to you live from HB, California.
I'm only extremely tardy in this post due to spending 10 hours on one homework problem and still remaining unsatisfied with the answer I came up with. Sometimes I guess you just have to learn to let go.