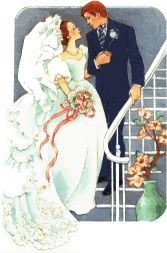 Most girls dream of having the perfect wedding. We want the tuxedos, the beautiful bridesmaids, the flowers, the perfect dress, and of course, the perfect groom. We are marrying him, after all! That's just what you do. And it doesn't really matter the price, it's all about how good the wedding looks when it's over. If you recall Miss. Clinton's wedding came up to around $3 million. It's nice she had access to money for that wedding. I imagine she was most likely just doing her part to keep the economy running. Let's not be too hard on her!
Have you ever noticed how awkward weddings are? It's not uncommon to see people just sitting there after the ceremony, eating their cake, and surveying the room for an escape route. After they have paid their respects to the bride and groom they make a beeline for the door.
That being said, I am not big into the dress and the bridesmaids .In concept, I think it is wonderful to have the support of friends and family on your big day. But that's the extent. Instead of a wedding, I would prefer a huge reception party. Half the stress and twice the fun. That's just me though… and most young women I chance to speak to about this topic are dreaming of their prince charming and picking out their wedding colors.
Society has warped sense of perfection when it comes to people. Each and every person is beautiful and perfect because each person has their own unique and individual beauty. No two people are the same. You may look a lot like Sarah, but you are still YOU with your own character. But the magazines and films won't let you get away with that! It's all about appearances. Check out
this site
if you want to see just SOME examples of photoshop gone wrong.
Definition of PERFECT according to the
MWD
a : being entirely without fault or defect : flawless
b : satisfying all requirements : accurate
c : corresponding to an ideal standard or abstract concept
d : faithfully reproducing the original; specifically : letter-perfect
That being stated, whose standards are we living up to when we are entirely without fault of defect? The chance that your definition of perfection is the same as mine is slim. Let's look at (B) again, same question. Whose requirements? TV/Films/Magazines?
You are beautiful and perfect just the way you are! You are a unique individual! There is no one else quite like you out there. So you can and
should
feel special!!
I like reality tv shows. There's a new reality tv show in the making
E!
is coming out with called "Bridalplasty" and I think it is sad. It's centered around creating one's dream wedding. Each competitor has an assignment and after completion, the winner get's to have any plastic surgery she wants. The focus is on becoming the perfect bride. When they're all finished, they show off their new plastic self on their wedding. Thereby, having the perfect wedding with the
perfect bride
.
I find that disturbing. But that's not all I find disturbing. A couple weeks ago or so, I wrote about an acid attack happening right in my neighborhood. It was strange to hear about but even more strange is the fact it was all a hoax. She did it to herself. I think she needs help.
And that's Emily reporting to you live from Gresham, Oregon.